Musings on the events inside and outside the gates of Temple Studios at Punchdrunk's The Drowned Man
Anonymous asked:
Hi! I was wondering if you knew exactly when Mr Tuttle's loop starts? I always check the toy shop too early or too late. :(
Tuttle typically starts at the second loop, so there's no point in checking his shop during the first loop. He does frequently give 1:1s, and occasionally moves about the main arcade - if his shop is closed you can probably wait outside until it opens again. If it's empty (with the door open) in the second or third loop, you can wait there too (or take a peek down the arcade or into the bar as he doesn't stray very far!)
Omar Gordon as Oscar
You are amazing! Love the scene you've captured so well! Glad to see more fanart popping up here and there on tumblr as well, and hope to see more of it (* cough * baby-mammoth *cough*)
So just like the pre-show talk last week, I received a detailed transcript of another Pre-Show talk I'd missed from earlier this month (again due to it being at 5pm on a Tuesday). This is such a treat to read for all who just couldn't make it out, so here is the Pre-Show Talk Q&A with the Performers that features Hector Harkness interviewing Kath Duggan and Katy Balfour from February 11th. Again there's some great insights here from character and scene creations to cast and audience dynamic. I found the bits where they talk about how they work with (and have power over) the audience quite interesting.
Thank you so much for the person(s?) who made this possible! I really hope Punchdrunk make more of these talks in this future (preferably at more accessible hours), and will definitely be joining next time if so!
I received this transcript of this week's Pre-show talk from a very kind and meticulous anon. For all those who couldn't make it out (and there were many, I assume, because it was at 5pm on a school night…) to this Pre-Show Talk with Hector Harkness and Sound Designer Stephen Dobbie, enjoy! There's lots of wonderful information in here on how the show works and the thought put into the sound design and music selection. Also dongs. I laugh at the thought of them trying, then failing, to jam any suitable country music into the show - though I never really noticed its absence until I read this! I hope more pre-show talks are to come, and I hope they're at more accessible hours…
And thank you again anon, you are amazing and this made my day!
"I made the horse run; I can make it fall."

"La Muerte, XIII" - mixed media/collage/Photoshop

Inspired by Punchdrunk's production, The Drowned Man.
Beautiful! I love the clever details in this!
Felix Barrett & Maxine Doyle Punchdrunk – Let the Space Move You
At around 4 hours and 11 mins in, Felix Barrett and Maxine Doyle have a segment in which they talk about Punchdrunk projects and The Drowned Man. They're also in the roundtable discussion which follows.
Closing Credits: Shirley Temple

The term "one-of-a-kind" is often handed out with reckless abandon, yet with Shirley Temple it was a fitting description. There's never been anyone like her. She was the epitome of a child prodigy, starting off her acting career at the tender age of three and appearing in no fewer than 43 feature films across the span of just 18 years. She wasn't a starlet with a promising future; she was a superstar from the moment she graced the screen.

Watching her in action is a mind-blowing experience. Your brain simply can't compute that this is a child dancing, singing and acting as if she boasted a wealth of experience. It reminded me of my complete bemusement upon first watching the Krankies in action, yet in films like Bright Eyes Temple wasn't a middle-aged woman pretending to be a child; she really was six years old! And more talented than most adult performers could ever dream to be.

I can't claim an extensive viewing of her catalogue, but the fact that I was aware of her existence long after her heyday should speak volumes. Like Chaplin, Bogart, and Hepburn, just the mere mention of her name brings legendary connotations, whether you've seen her films or not. She was a top box office drawer who later became a brand, and when she sensed her time was up she didn't just fade into mediocrity, she announced her retirement from the industry and began pursuing a career in politics. She knew her time was up.

I've lost count of the times I've returned home from The Drowned Man whistling the tune to "At the Codfish Ball" before mouthing the words: "Lobsters dancing in a row, shuffle off to Buffalo." It's one of my favourite scenes from the latest Punchdrunk theatre show as it encapsulates the predatory nature of the Hollywood beast. As Faye Greener goose-steps across the stage she appears so childlike in her movements - both naive and innocent to the workings of the machine. And all the while the studio boss watches intently in the shadows before declaring in a chilling monotone: "You'll do. You'll do." 

I can't help but wonder if this scene mirrors the early life of Shirley Temple. Unlike many child actors she came out of the other side in one piece and went on to live a long and prosperous life.
Adore, whose mother's letters to Claude and Alice Estee can be found in the studio desks, is probably another persona based on Shirley Temple and the Hollywood machinery that envelops these rising stars. Hats off to Temple Studios' namesake and a goodnight sweet princess.
EDIT: Shirley's also made an appearance in Temple Studios - check out the Romola shrine on the first floor and you'll see what I mean.
The recent announcements about pre-show talks with Hector Harkness reminded me that I never got around to writing up my notes from the December Site-Sympathetic Design pre-show talk by Felix and Maxine. It's been a while, but I haven't found any notes about this talk online (though if anyone…
I don't think I caught any other recaps of the third Pre-show talk from last year, so thank you so much latetothewrapparty for posting this for us! 
So much great info here… I kind of like the image of plants being taken to a plant hospital. I imagine a Punchdrunk plant hospital probably has some insane botanist dressed as a nurse covered nonsensically in blood singing to the plants or something. I wonder if those taxidermy beasts ever get any fresh air, the poor guys…

"Reality is a little thinner in the top and the bottom levels, and it all gets a little more abstract towards the edges." - Oh Punchdrunk, you are amazing.
For this past holidays, I was so lucky to spend time with loved ones and I was grateful for so many wonderful presents. In October, following a TDM show on Halloween, I lost an item really dear to me - a red hip flask that had been gifted to me in Scotland years back. Then this Christmas one of my best friends gave me this! It's a gorgeous bespoke découpage Drowned Man-themed hip flask that just makes me happy to look at (and fill with bourbon)! It's full of lots of little thoughtful details and I don't get bored of exploring its details.
Another amazing thing about it is that it's sort of partially "interactive"-ish! On the cap is an orange (and there's waves of sandy desert, applicably on the top of the flask!) and if you'll notice it's bordered by a red string: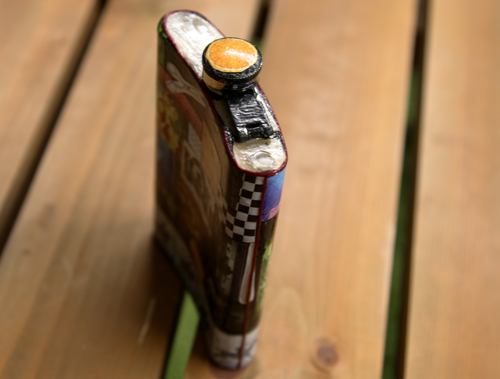 And if you follow that red string down the side of the flask to the bottom…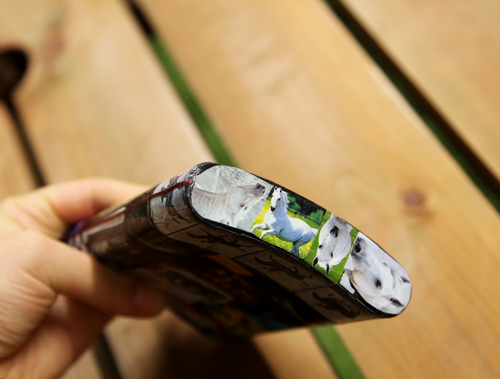 Tara, you are all kinds of awesome, and thank you so much! I know I'm not the only Drowned Man enthusiast who really loved this flask - several people have told me they wanted one as well! Hope you'll be making more flask/découpage stuff soon!
I guess I'd take my chances with this kind of party at Temple Studios on Valentine's Day haha. For more information on Temple Studio's "latest production" click here. I'm not sure it's the party Maxine had hinted at, but at least it's something!